© 2013 NewLook International, Inc. ALL RIGHTS RESERVED


NewLook Graf-X WB™ is a permanent anti-graffiti coating designed to protect a variety of vertical masonry surfaces from graffiti. The water based formula leverages advanced polymeric nano-fusion technology that penetrates deeply and yields a clear, breathable film for long-lasting protection. Graffiti and paint may be removed from Graf-X WB several times before re-coating is necessary. Graf-X WB is odorless, non-yellowing, mold-resistant and UV-resistant. Use indoors and outdoors. Common applications include concrete, exposed aggregate, brick, masonry blocks, natural stone and other porous surfaces.

Benefits

Breathable, UV-resistant and non-yellowing

Excellent penetration on porous surfaces

Suitable for painted surfaces

Mold and salt-air resistant

Great chemical and abrasion resistance

Long-lasting protection for all types of vertical surfaces

Water-based VOC compliant

Sing-component, ambient cure

Preparation

Remove all dirt, oil, debris, loose paint and other foreign materials that could prevent Graf-X WB from penetrating and properly bonding to the surface. Graffiti should be removed with NewLook 
Graf-X Cleaner
™ before re-coating Graf-X WB. Do no use when hydrostatic pressure and efflorescence is excessive. Apply a representative job site sample (mock-up) for approval.
Instructions

Before using, read Technical Data Sheet and MSDS. Shake and stir the bottle thoroughly. Do not dilute. Apply to the surface with a low pressure (paint) sprayer or paint roller depending on porosity. Avoid installing in high wind conditions. Initially, apply a fine mist to break surface tension. Apply a second, heavier coat (wet on wet) to cover the surface thoroughly. Apply when air and surface temperature is between 50° F (10° C) rising and 90° F (32° C) cooling.

Coverage Rate

Approximately 100 square feet per gallon; temperature, surface porosity and application methods may affect coverage rate.

Maintenance

Apply additional coats of Graf-X WB as needed. Use NewLook Graf-X Cleaner to remove graffiti and paint from either Graf-X WB or unsealed surfaces. Clean tools and equipment with xylene or mineral spirits.

Quick Links


(Orders fulfilled by Distributors)

"I'm sure the nano-technology gives it something special, but I just like the fact that it works! We're using it for our municipal customers."

-- M. Fontana; Richmond, VA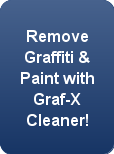 Permanent Anti-Graffiti Coating